HPT605 RS485 4-20MA Effluent Measurement Sewage Water Level Sensor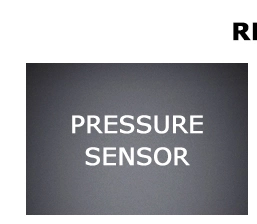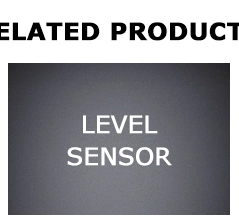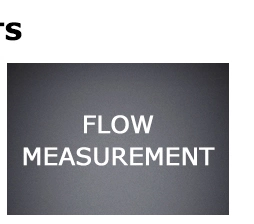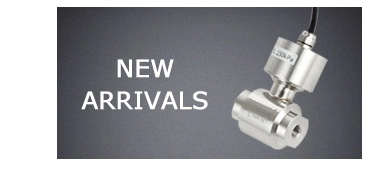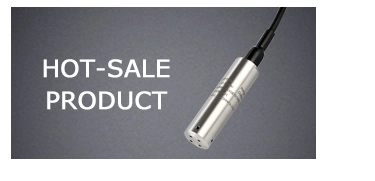 Product Description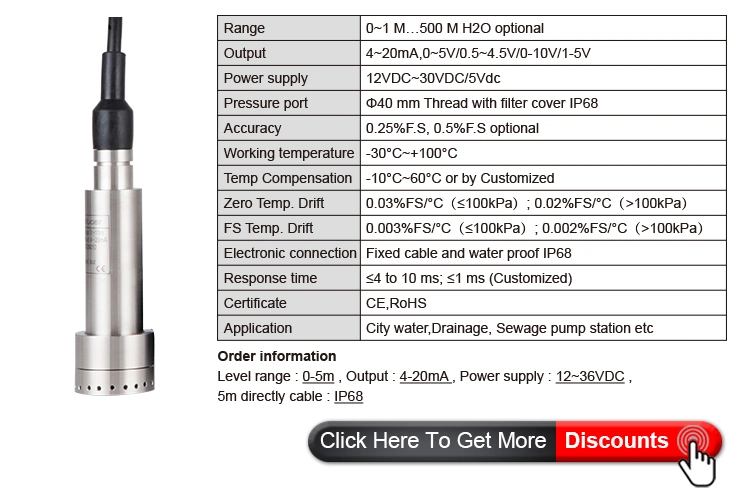 Holykell HPT600 Sewage series adopt imported U.S.A MEAS TE silicone core, ensure the factory the highest accuracy is 0.1%. And the unique 8pores(HPT604) or 20 pores(HPT605) or "Steel cage" Flanges(HPT611) filter design protects the diaphragm from non-clogging and damage. Make it suitable for variety of sewage waste water treatment applications.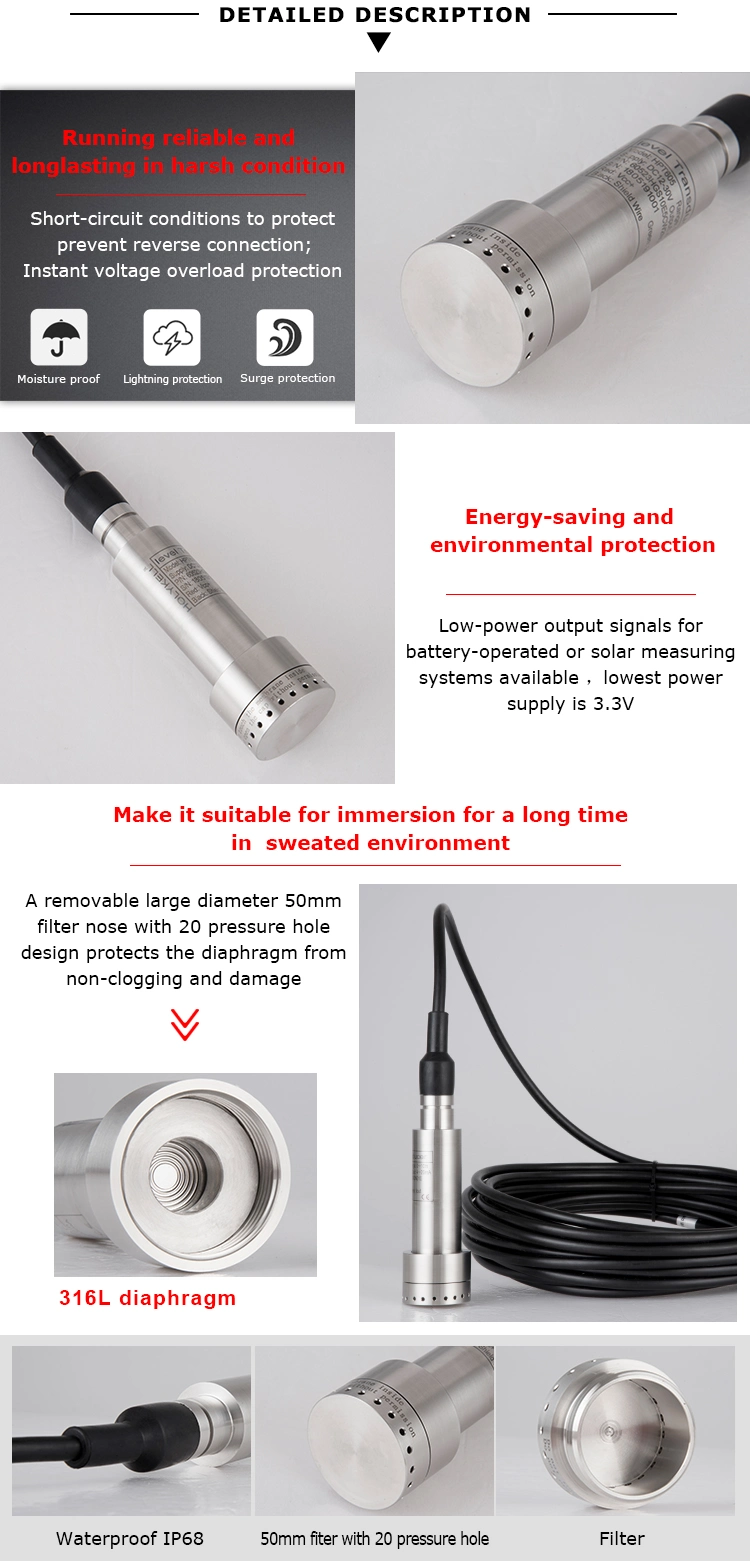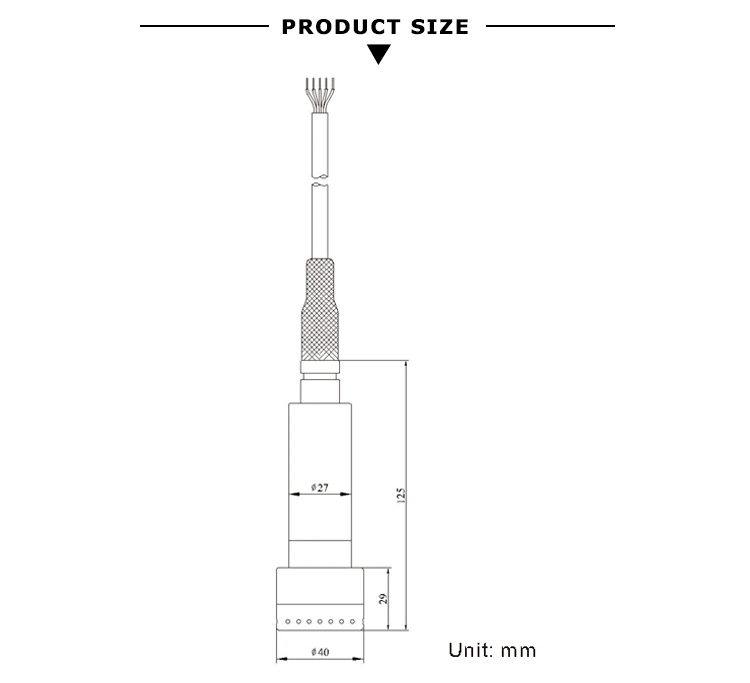 | | | |
| --- | --- | --- |
| Feature | Advantage | Benefit |
| a removable large diameter 50mm filter nose with 20 pressure hole design | protects the diaphragm from non-clogging and damage | make it suitable for immersion for a long time in sweated environment |
| lightning surge reverse protection | short-circuit conditions to protect prevent reverse connection; Instant voltage overload protection | running reliable and longlasting in harsh condition |
| The vent with a filter | breath atmospher and protect moisture enter transducer | without maintenance, even in the most humid environments. |
| USA TE Chip,Digital PCB board | High accuracy 0.25%,Small temperature drift,automatically compensates for changes in barometric pressure | Stability,keep sensor running longer by reducing downtime and maintenance costs |
| Lowe-Power output signals | Low-power output signals for battery-operated or solar measuring systems available ,lowest power supply is 3.3V | energy-saving and environmental protection |
| mm 316L diaphragm | Anti-corrision ,wear resistance , shock resistance | make it suitable for immersion for a long time in most industrial liquids |

1. 5-10 years design life, the lifelong maintenance; Import diffusion silicon core body, ≤1 ms response time;Its service life is 2-3 times of similar products.
2. Adopt the military printed-circuit board and wiring, with good electromagnetic compatibility;Anti-interference is enhanced by 300%, the stability is over 10 years.
3. The unique design of 8 hole and The unique filter design, it Can effectively filter out impurities, prevent blockage, prevent shock; Prevent plugging rate increases more than 80%
4. Automatic temperature compensation, -40 ~ 85, autocorrection temperature drift.
5. Five layers of seamless and waterproof dustproof connection design, international level IP68; 12 mm waterproof and oil-proof cables, the service life is more than 10 years.
Application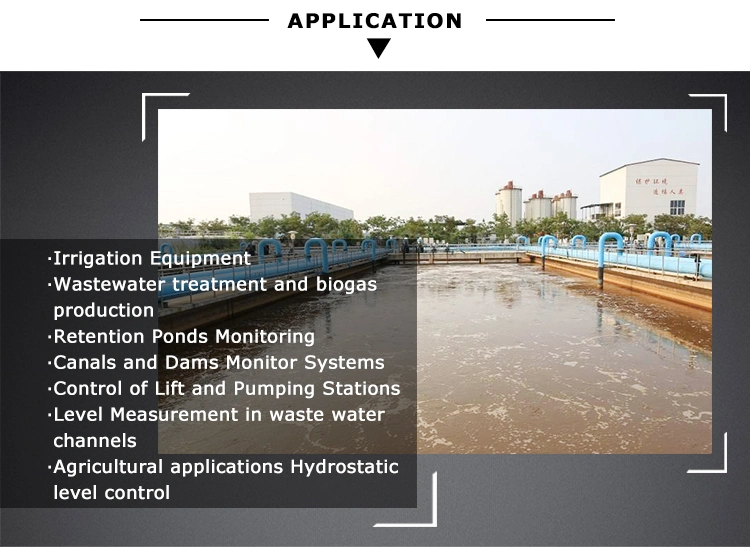 Sewage level measuring and control Automatic testing system
Well level measurement and control
Sea water level measurement and control
Industrial course testing and control
Laboratory equipment Oil and Fuel Tank level measuring
Sewer water level and pressure monitor
Saving water to irrigate
Sewage pump station level measurement,
And are highly praised by consumers.
Our Services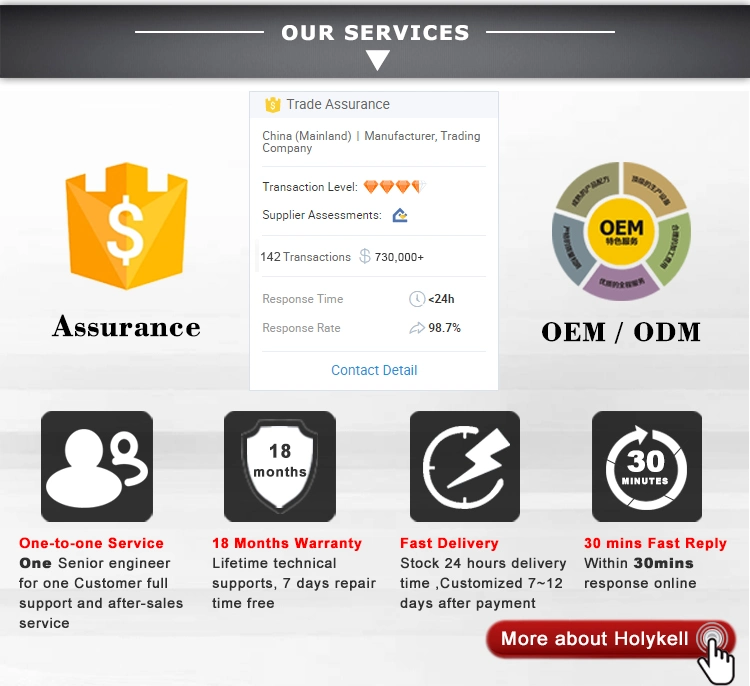 Company Information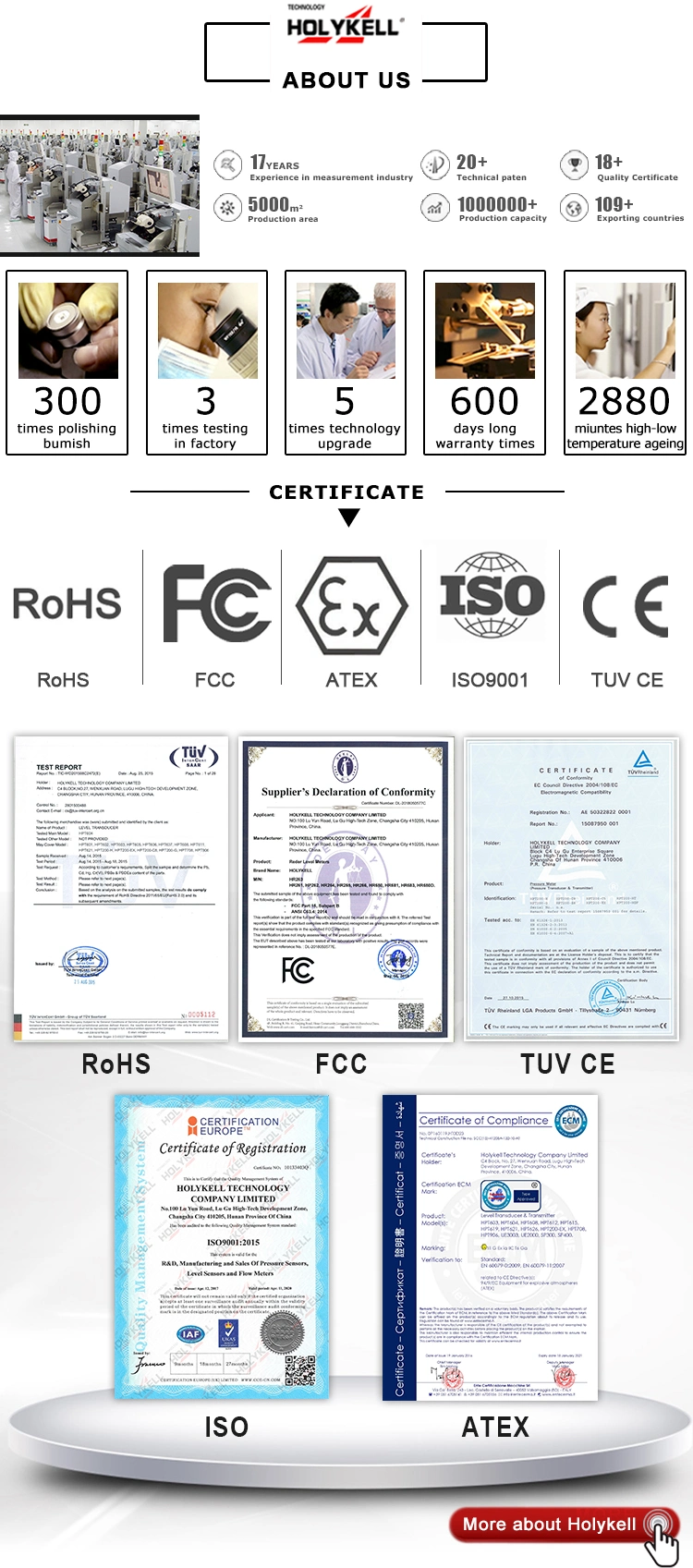 Buying Guides
In order to recommend you the most suitable products and make an accurate quotation,please provide the following information and send it to our sales when you are going to make an inquiry, thanks !
1. Level range: 0-1m...500m optional
4. Output signal:4-20mA, 0-5V or RS485?