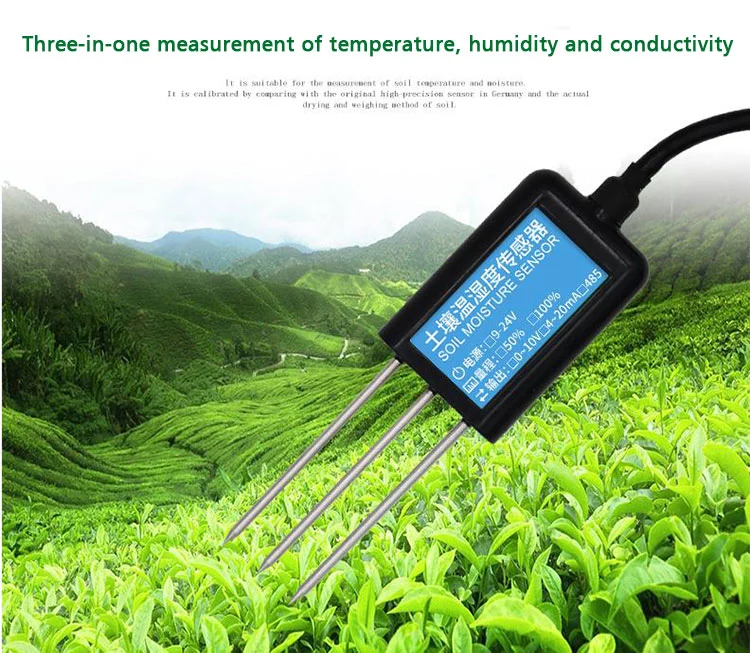 HTR320 series soil sensor is a high-precision and sensitive sensor for online measuring soil humidity / soil temperature / soil conductivity(EC) / soil PH / soil NPK. Compared with the original high-precision sensor of Germany and calibrated by the actual drying and weighing method of soil, it has high precision, fast response and stable output. Agricultural sensor series products are widely used in agricultural greenhouses, flower cultivation, pasture grassland and other occasions.


| | |
| --- | --- |
| Soil humidity/temperature | H:0%-100% / T: -40ºC~+80ºC |
| Soil EC | 0-10000us/cm |
| Soil PH | 3~9PH |
| Soil NPK | 0~1999mg/kg |
| Accuracy | H:±3%(5%~95%,25ºC), T: ±0.5ºC(25ºC), EC: 10us/cm, PH: ±0.3PH, NPK: ±2%F.S |
| Analog ouput | 4~20mA/0~5V/0~10V |
| Digital output | RS485 |
| Protection level | IP68 |
| Power suppy | 12~30VDC |
| Maximum power consumption | 1.2 W |
| Response time | ≤1s |
| Working environment | -40ºC- +80ºC, 0 - 100% (soil temperature&humidity+soil EC), 0 ~+55ºC, 5%-95% (soil PH), 5 ~ +45ºC, 5%-95% (soil NPK) |
| Long-term stability | ≤1%/year (soil temperature&humidity+soil EC), ≤5%/year (soil PH+NPK) |
| Protection level | IP68 |
| Sealing material | epoxy resin (black flame retardant) |
| Probe length | 70mm |
| Probe diameter | 3mm |
| Cablle length | 2m(default) / customized |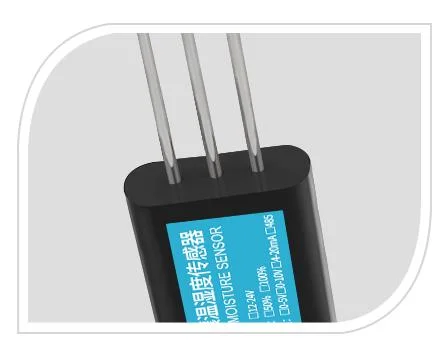 Excellent sealing performance
The high-density epoxy resin is filled between the sensor body and probe, prevent moisture entering.
Waterproof & anti-corrosive shell
Ensure stable monitoring of components, the sensor body is waterproof and reach IP68 protection level.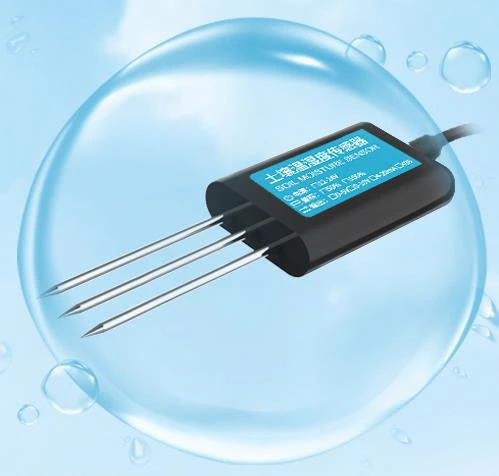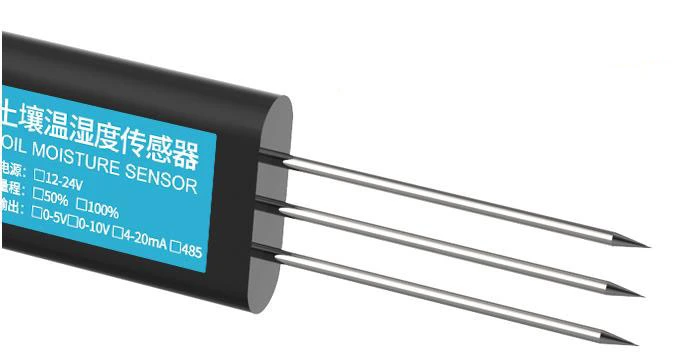 Austenitic 316 stainless steel probe
Rust proof, resistance to point solution, salt and alkali corrosion, ensure long-term operation of probe part. Therefore, it is
suitable for all kinds of soil.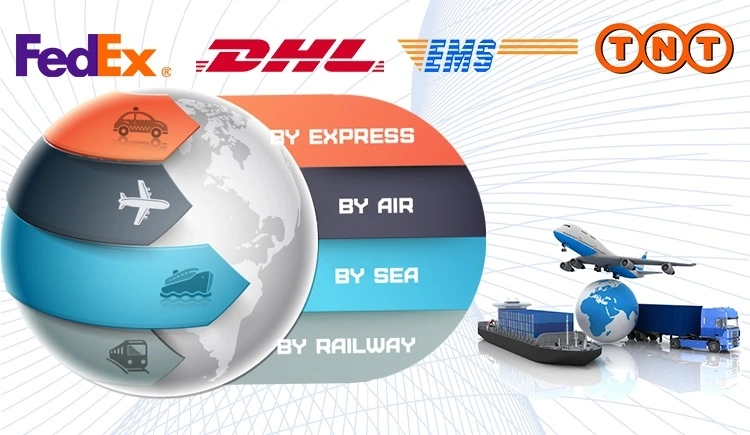 - Who We are? As one of the leading manufacturer In the field of industrial automation, Hongjun Science and Technology Co., Ltd. works in this field for more than 15 years! There are 1000 workers in our factory including 40 technicians!
- What We Do?
We provide not only products but also solutions for customers! Our main products include AC gear motor, DC gear motor, high precision planetary gearbox used for stepper motor and servo motor! Also we provide customize service according to our customers' requirement!
- How is Quality? Manage workshop by 5S and all products are most strictly checked by several processes before leaving our factory! We have got certification of ISO9001, CCC, CE, UL, RoHS!
- What is the Application? Our products are widely used in machine tools ( CNC lathes), textile machinery, knitting machinery, bank appliances, industrial assembly line (automatic door opener), cleaning equipment (sweeping machine), packaging machinery, pharmaceutical machinery, educational instrument, office equipment ( Cementing machine), medical devices, health care equipment, warehouse automation, industrial robots and so on.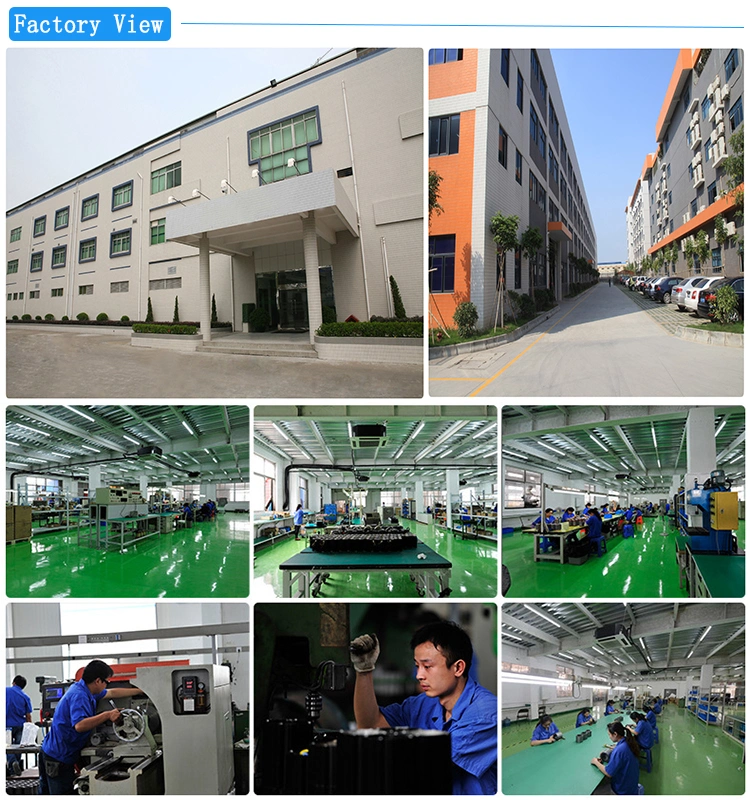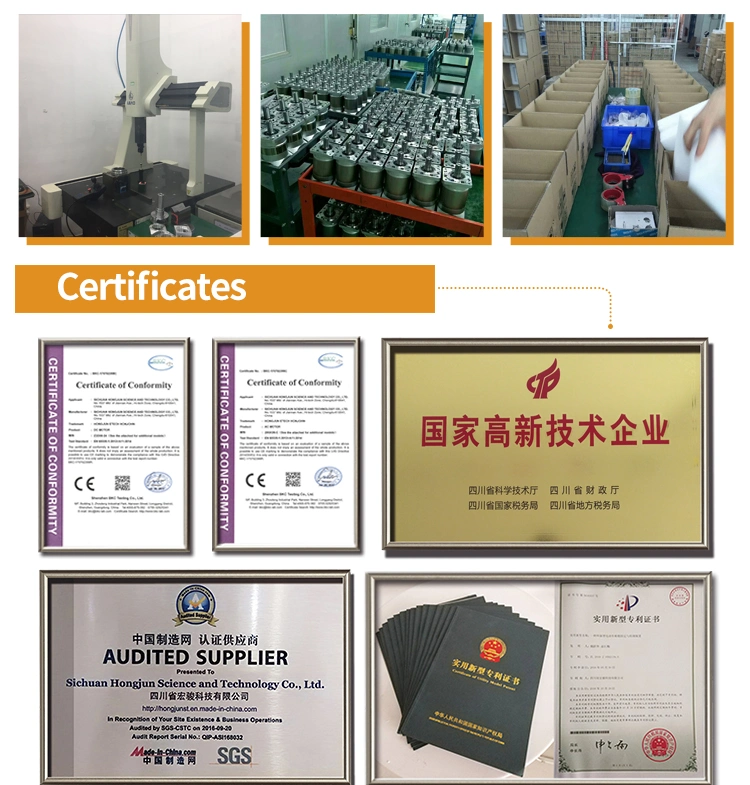 Q: How long will you give me the reply?
A: we will contact you in 1 hours as soon as we can.
Q:Could I visit your factory?
A: Sincerely invite you to visit our factory.
Q: Do you provide samples ?
A: Yes,we have materials in stock to help you to get the samples as soon as we can.
Q: How about the quality of the managements ?
A: We have a complete quality control system , all of our products will be fully pre-inspection by QC departments before shipping
to you . We have the certification of ISO,CE we could send the certification test of our company to you
Q: What is your terms of payment ?
A: We could accept T/T, Paypal, WU ,Credit Assurance
Q: What is the warranty for your product ?
A: Warranty: 1 years, Lifetime maintenance
Q: How to contact you?