Evaporative Refrigeration Cooling Condenser
Brief Introduction of Evaporative Refrigeration Cooling Condenser
| | |
| --- | --- |
| Heat Rejection Capcity | 100kw-10000kw |
| Refrigerant | NH3, R22,R134a ect. |
| Motor for fan and pump | Siemens or WEG |
| Material for coils | Al-Zn alloy steel sheet, SS304,SS316L |
| Material for casing | Al-Zn alloy steel sheet, SS304,SS316L |
| Warranty | 2 years |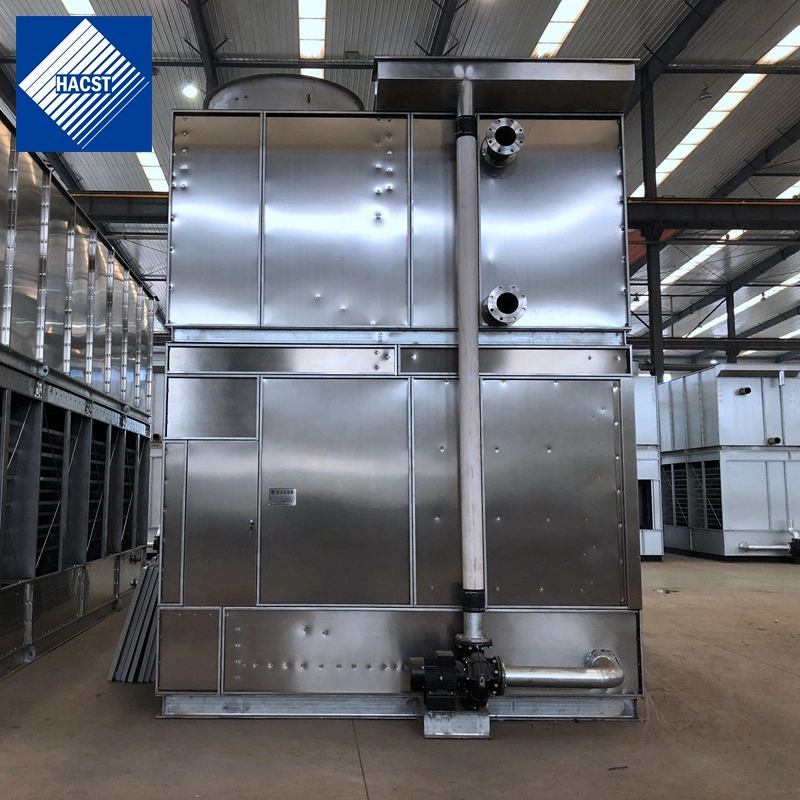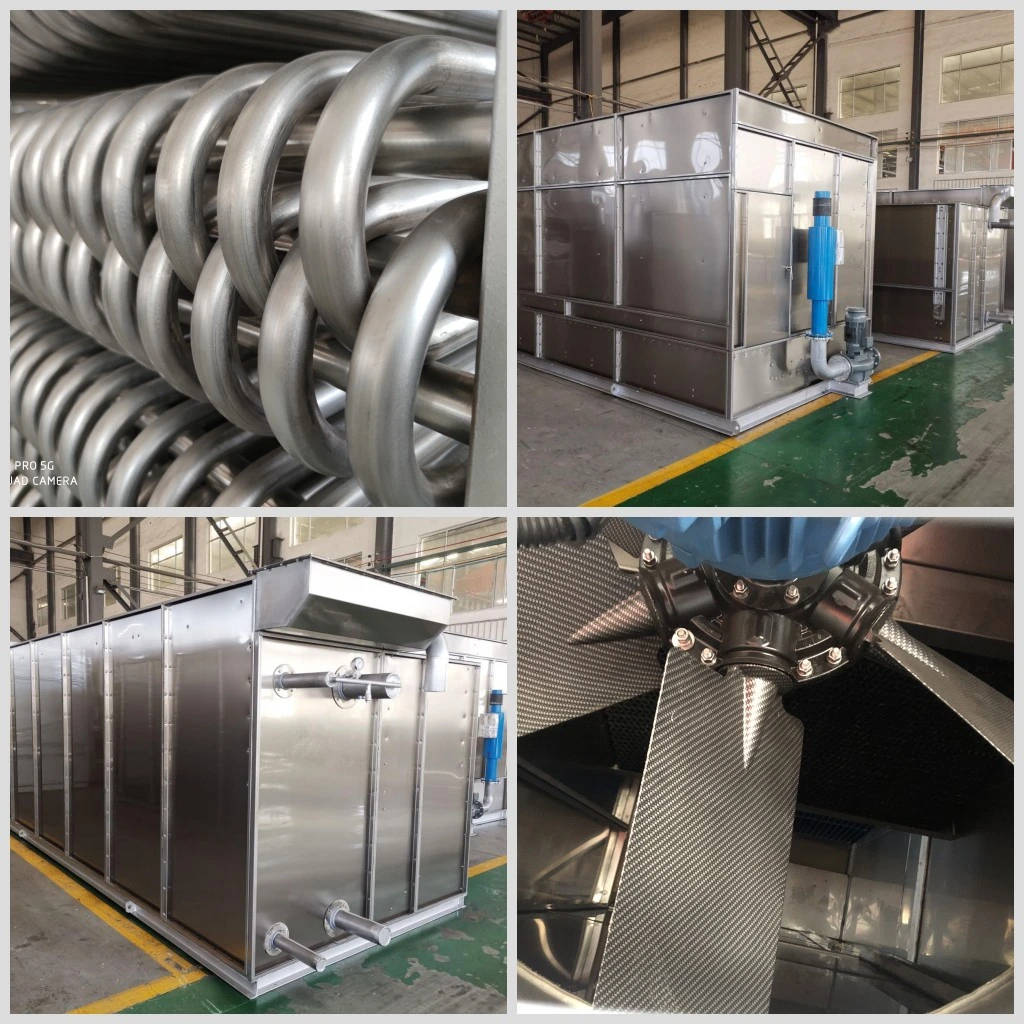 Production Workshop of
Evaporative Refrigeration Cooling Condenser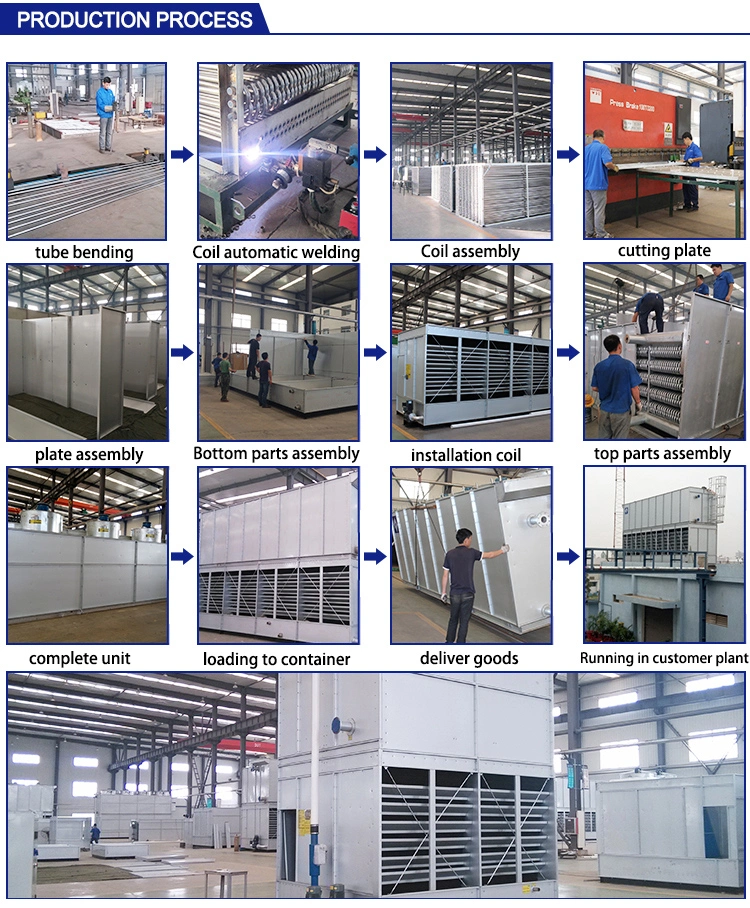 Components of
Evaporative Refrigeration Cooling Condenser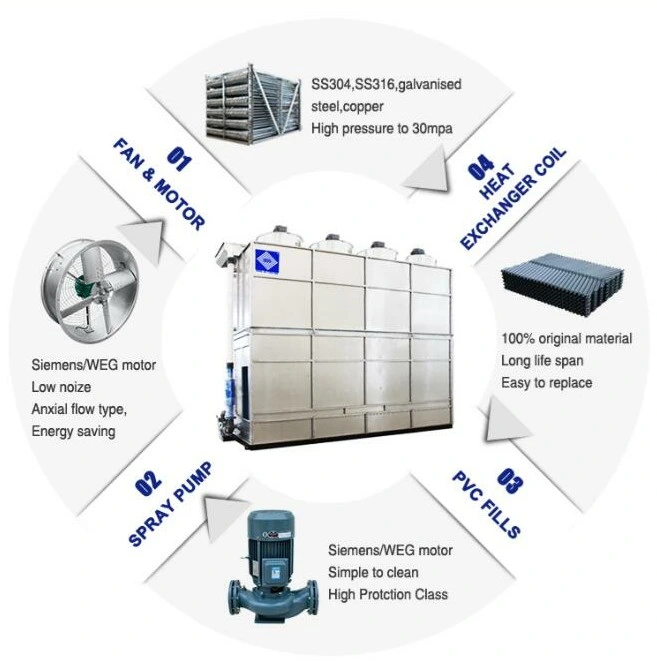 Technical Specification of
Evaporative Refrigeration Cooling Condenser



MODEL


CAPACITY
(M3/h)



FAN




WATER SPRAYING PUMP




WEIGHT




DIMENSION




QTY


POWER
(K/W)



AIR VOLUME PER SET (M3/h)




QTY


POWER
(K/W)



WATER VOLUME PER SET (M3/h)


SHIPPING
(KG)

OPERATING
(KG)

LENGTH
(MM)

WIDTH
(MM)

HEIGHT
(MM)

ZHX-320

320

1

3

35000

1

1.1

36

2390

3790

1925

2380

4220

ZHX-430

430

1

4

45000

1

1.1

45

2510

3910

1925

2380

4220

ZHX-525

525

1

5.5

65000

1

1.1

45

2760

4340

1925

2580

4220

ZHX-595

595

1

5.5

75000

1

1.5

65

3290

5140

1925

2900

4220

ZHX-700

700

1

7.5

87000

1

1.5

65

3680

5530

1925

2900

4965

ZHX-800

800

2

4

45000

1

2.2

84

4230

7650

3770

2200

4220

ZHX-870

870

2

4

45000

1

2.2

84

4510

7930

3770

2200

4720

ZHX-980

980

2

4

45000

1

2.2

84

4620

8040

3770

2200

4965

ZHX-1100

1100

3

3

40000

1

3

120

6170

10170

4240

2200

4720

ZHX-1250

1250

3

4

45000

1

3

120

6510

10510

4240

2200

4965

ZHX-1380

1380

4

3

45000

1

3

120

7100

11950

5610

2200

4220

ZHX-1520

1520

4

3

40000

1

3

120

7310

12160

5610

2200

4730

ZHX-1680

1680

4

4

45000

1

3

120

7590

12440

5610

2200

4965

ZHX-1840

1840

4

4

45000

1

4

170

8920

15580

7450

2200

4220

ZHX-2010

2010

4

4

45000

1

5.5

230

9330

15990

7450

2200

4720

ZHX-2245

2245

4

4

45000

1

5.5

230

9550

16210

7450

2200

4965

ZHX-2450

2450

5

4

45000

2

5.5

230

11650

19090

9300

2200

4720

ZHX-2600

2680

5

4

45000

2

5.5

230

12350

19790

9300

2200

4965

ZHX-2820

2820

6

4

45000

2

5.5

230

12490

19930

9300

2200

4965
Package and Shipment of
Evaporative Refrigeration Cooling Condenser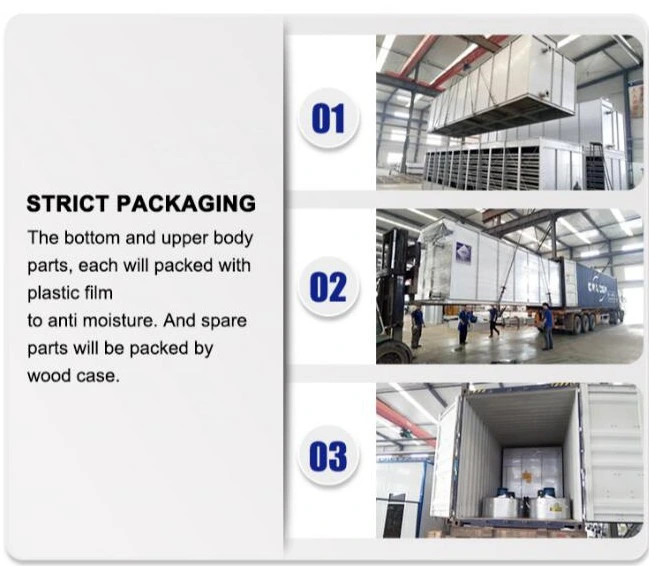 Company Information
Heng An has come a long way since it was established in 1975, and now has 900+ employees. Heng An Cooling is one of the largest manufacturers of cooling towers, evaporative condensers and air coolers in China. For more than 40 years, we have provided exceptional quality euqipment and service to the industrial, refrigeration, power generation and other engineering areas. Our company and products are certificated by ISO9001, ISO/TS16949, ISO14001, CE,TUV and BV.
National Testing Laboratory
: Established in 1983, Heng An Laboratory is a state level testing laboratry. It is equipped with the most advanced and comprehensive testing equipment.
Outstanding R&D Ability
: Heng An established cooperative bases for the production research with many institutes. We also establish Shandong Engineeering Technology Research Center and Provincial Technology Center for product research and development.We have 52 professinals working on the product R&D area,21 of them have senior professional titles and 12 have doctor degrees. We own 12 national new product catalogues,121 natinal patents and provincial level technology research& innovation projects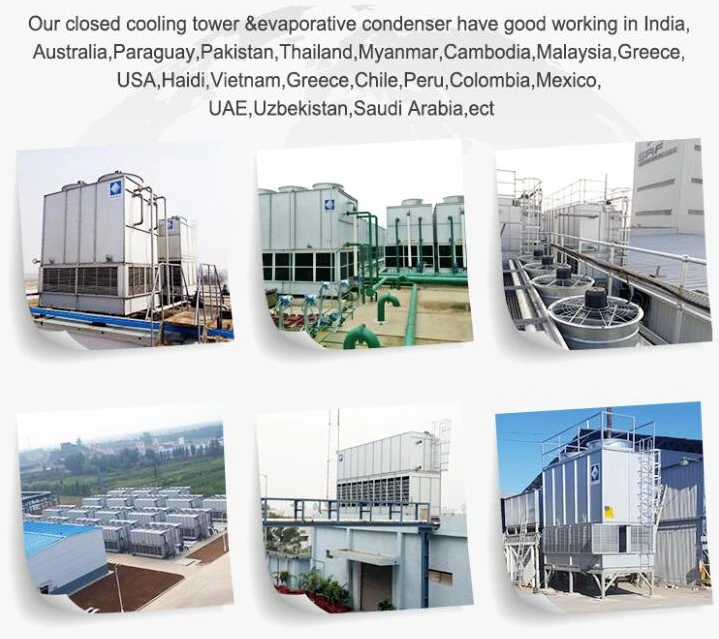 FAQ
1.Q: Your company is a manufacture or trading company?
A: We are a leading cooling tower manufacturer for 40 years. It is a "famous brand"-Heng An manufacture in China.
2.Q: How do I get repair parts and how long does it take?
A: We have workshop can supply all parts of the product, and 90% of spare parts can be distributed to any place in the world within one week!
3.Q: What if I don't have the professional engineer to install or maintain the product?
A: We could send experience engineers on site to install the product and train your staff for equipment operation and maintenance.
4. Q. How can I choose a suitable model?
A: As long as you provide the following information, we will provide the proposal and help select the right model for you as long as you answer the above questions.
a) refrigerant
b) condensing temperature
c) wet bulb temperature
d) heat rejection capacity