Lithium ion battery film coating machine for electrode preparation max coating width 500mm
Product Description
| | |
| --- | --- |
| substrate thickness | aluminum foil 0.012~ 0.030mm ; Copper foil 0.008 ~ 0.020mm |
| Substrate width | aluminum foil 100-440m; Copper foil 100-440mm. |
| the max.thickness of wet coating | 80 ~ 300um ( viscosity of the slurry under the conditions allowed ) |
| coating width | 440mm , maximum width of roll coating 500mm ; |
| mechanical tape speed | 0.5 ~ 6m/min(Max) |
| Coating Speed | 0. 5 ~ 5m/min ( with the slurry material, thickness, viscosity related ) ; |
| Total Length of the machine | 2m*Drying Box 4 part+3m=11m. |
Technical Parameters:
1. coating method: Discontinuous coating
a. The first surface coating automatic fixed-length segment;
b. composite side automatic tracking coating the first side;
c. the length of the interval from the composite coating.
Continuous coating
2, Discontinuous Coating gap:5-8000mm±1mm(adjustable) ;
3. Coating accuracy:
a.dry thickness of the accuracy tolerance: single side cathode: ±2.5μm, single side anode: ±2.5μm(testing 4,5 point on the transverse section,100mm on the Vertical section)
b.coating the positive and negative alignment tolerance:≤ ± 1.0mm
c.The average length tolerance: ≤ ± 1.0mm ;
d.The average width of the tolerance: ≤ ± 1.0mm .
4. roll core diameter: 3 inches, with gas rising shaft;
5. Tension control: Sprocket tension, weight constant tension
6.Correction control precision: ±0.01mm,correcting precision: ±1mm
7. Drying Type:
a. hot air drying, hot air circulation;
b. Heating: electric heating9KW*4part=36KW
c. hot air volume: :2300m3/h ×4part=9200m3/h(adjustable)
d.exhaust air rate:. 2300M3/h
9.Oven length:2m/part*4part=8m
10. Oven Material: stainless steel both inside and outside;
11. Oven temperature: room temperature ~ 150 ºC , 4 segments independently adjustable,temperature control
accuracy <± 5 ºC;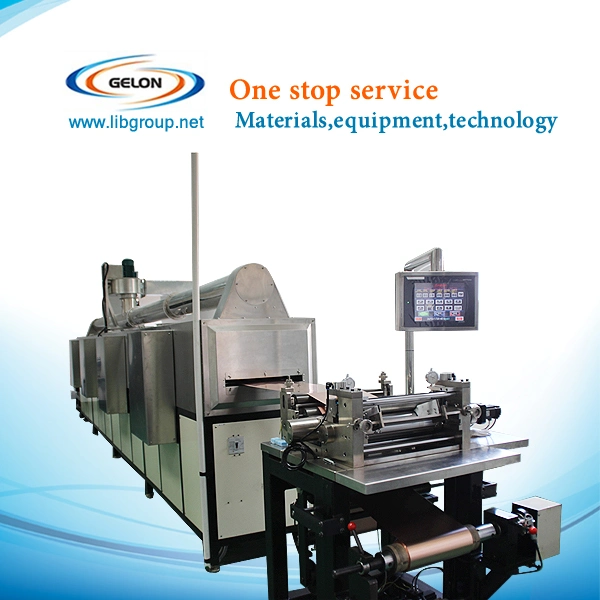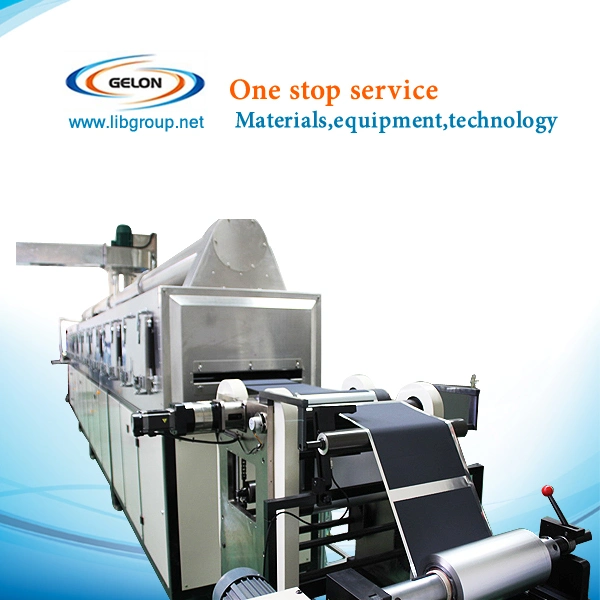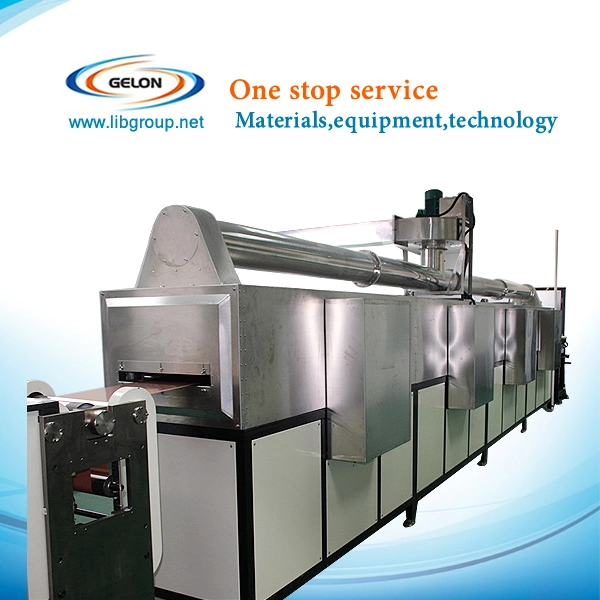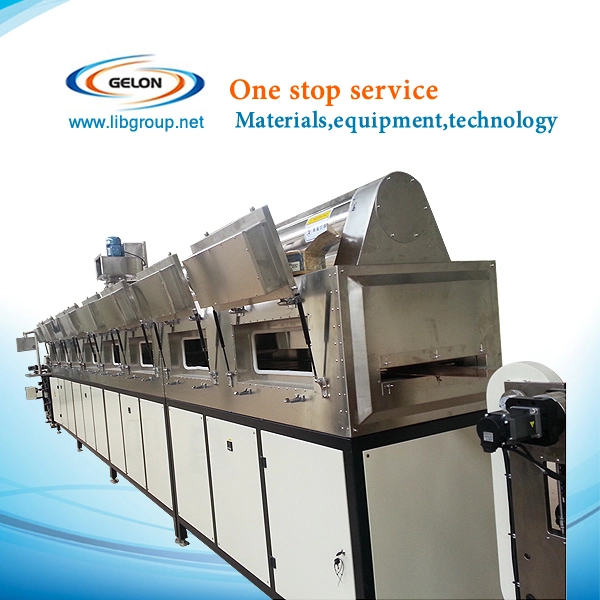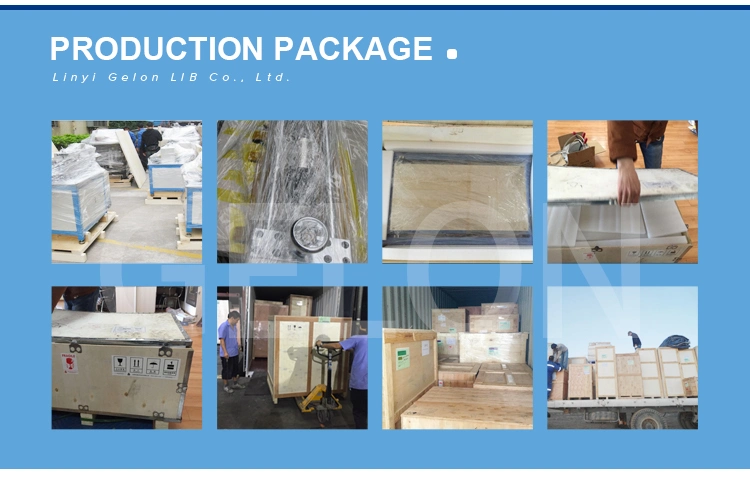 We have successfully completed lithium battery production line turn key project
With Bolivia government, this is the first lithium battery project in South America,
For mobile cell phone battery and E-bike battery. Also Bolivia President attended the opening on Feb 17th, 2014.
More information you can visit our website:
http://gelonlib.en.made-in-china.com
Turn-key Project of Li Battery (Lab, Mobile, EV) Production Line
Video Link:
http://gelonlib.en.made-in-china.com
One-stop solution for you, including materials, equipments and technology. Also provide a "turn key" project for you!
1. ) full set of lithium battery materials, including:
LiMn2O4, LTO, LiNiMnCoO2(NMC), LiCoO2, Graphite(MCMB)and other cathode&anode battery materials; Aluminum foil, copper foils, battery separator, etc.
2. ) full set of lithium battery equipments, for example:
Mixing machine --coating machine--oven--rolling machine--welding machine--slitting / cutiing machine --winding machine--sealed machine, etc.
3) full set of lithium battery technology.
We can design the laboratory and production line, according to customer's request.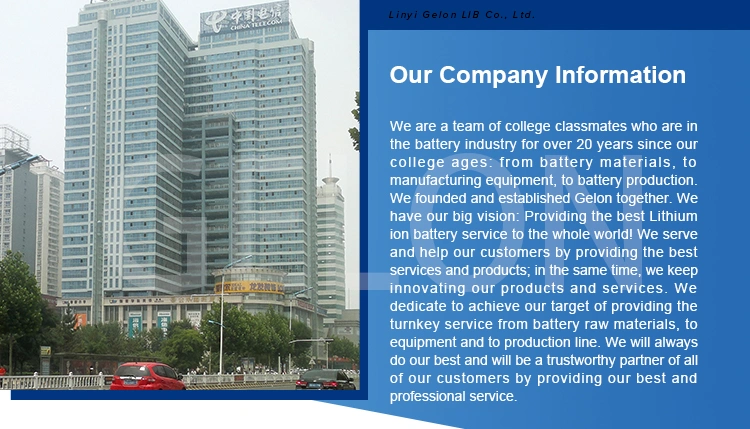 What's our advantage:
A: Full set of products chain from lithium ion battery materials, equipment, battery production technology;
B. 10 years lithium ion battery working experiences
C. More than 9 years exporting experiences and 6 years golder supplier in Alibaba
D. Strong teams for markets and agents, and customers all over the world from Asia, American, Europe. Middle east etc;
Choose us means you choose the all-powerful partner for your business
For more detail pls kinldy contact by