Submersible RS232 RS485 Modbus Liquid Fuel Oil Water Level Sensor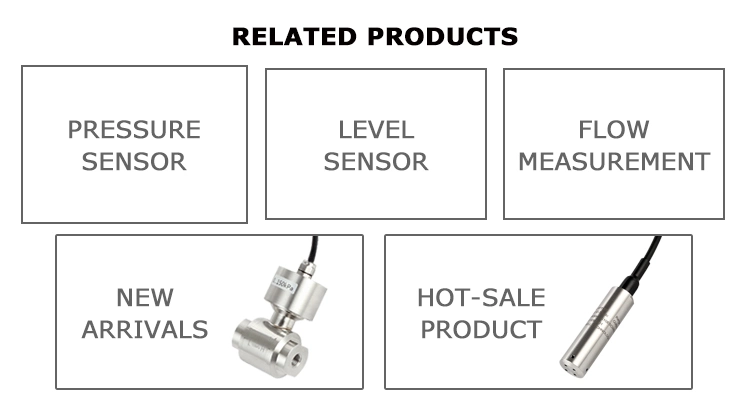 Product Description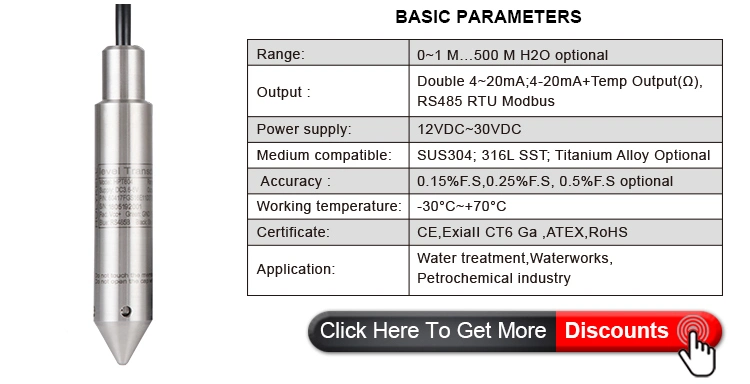 HPT604 is a submersible level transducer suitable for liquid level and depth measurement. It consists of an imported U.S.A MEAS TE silicone core element encased in all 316 stainless steel, hermetically sealed housing make it suitable for immersion in most industrial liquids and oils. 5-10 years design life, the lifelong maintenance for your project escort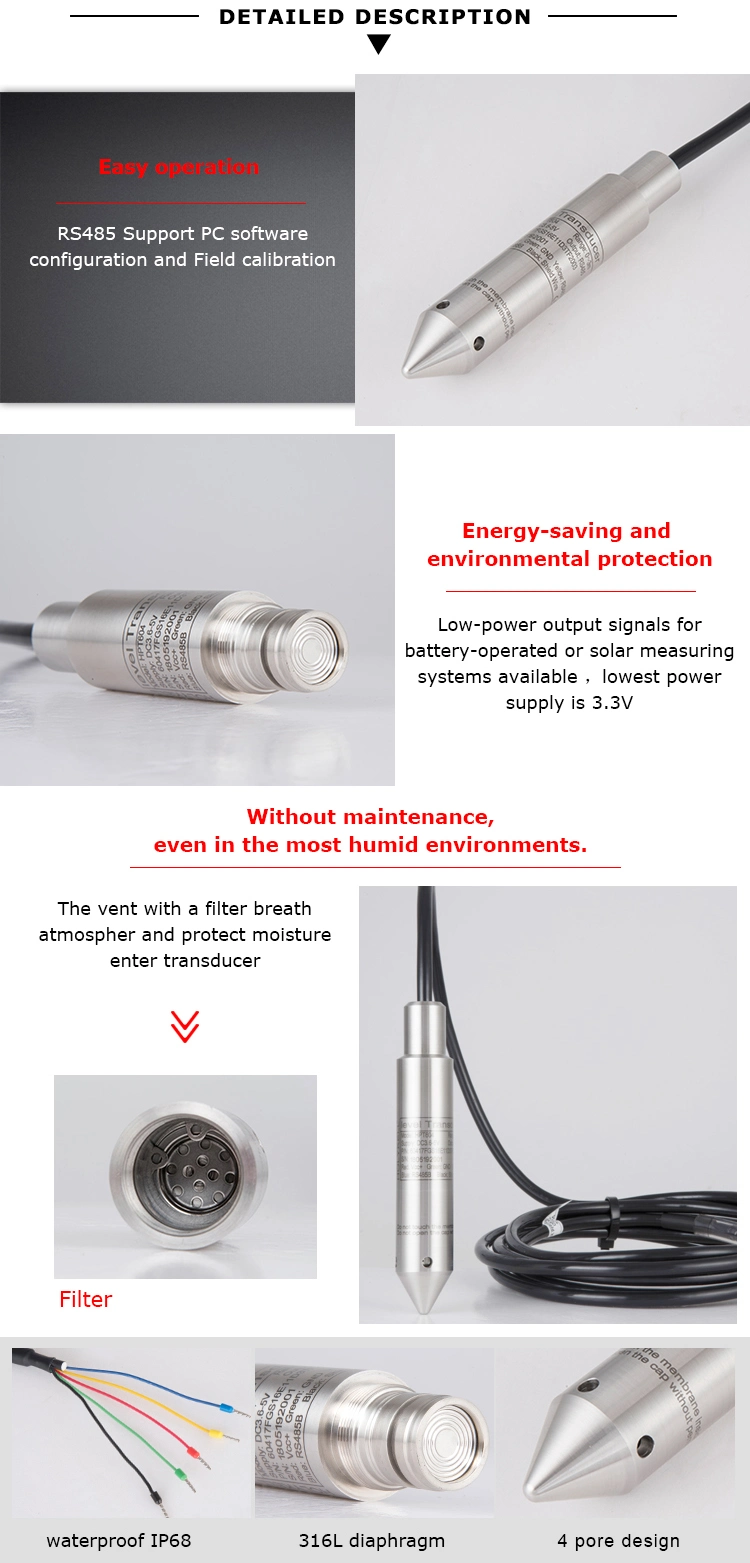 You will benefit from Our HPT604 submerisble level sensor?
| | |
| --- | --- |
| Benefit | Advantage |
| 1.Easy operation | RS485 Support PC software configuration and Field calibration |
| 2.Without maintenance, even in the most humid environments. | The vent with a filter breath atmospher and protect moisture enter transducer |
| 3.Energy-saving and environmental protection | Low-power output signals for battery-operated or solar measuring systems available ,lowest power supply is 3.3V |
| 4.Widely Application | Double output digital signal and temperature |
1. 5-10 years design life, the lifelong maintenance; Import diffusion silicon core body, ≤1 ms response time; Its service life is 2-3 times of similar products.
2. Adopt the military printed-circuit board and wiring, with good electromagnetic compatibility;
Anti-interference is enhanced by 300%, the stability is over 10 years.
3. The unique design of 8 hole and The unique filter design, it Can effectively filter out impurities,prevent blockage, prevent shock; Prevent plugging rate increases more than 80%.
4. Automatic temperature compensation, -40 ~ 85, autocorrection temperature drift.
5. Five layers of seamless and waterproof dustproof connection design, international level IP68;12 mm waterproof and oil-proof cables, the service life is more than 10 years.
Specificate of submersible borehole level sensor
Model

HPT604 submersible level sensor

Measuring range

1M ...500m

Accuracy

0.15%F.S

Output

RS485 RTU, 4-20mA, 0-5V, 0-10V, 1-5V

Power supply

10~30 Vdc

Working Temp

-30~80 or -40~100(Customized)

Storage Temp

-40~125

Temperature Compensation

Standard:-10~60 or by Customized

Medium compatible

Compatible with 316L Stainless Steel

Polarity protection

yes

Cable

3m PUR cable with vents(customize)

Overload

200% F.S.

Burst Pressure

300% F.S.

Long Stability

Standard:0.1%F.S±0.05%/Year;

Max: 0.15%F.S±0.05%/Year

Baud rate:

9600 (standard), 2400,4800,19200 by customized.

Data format:

1 start bit, 8 data bits, 1 stop bit

Sampling rate:

10 points/second to 1 point/50 minutes

Resolution:

20 bit 10ppm

Insulate resistance

>100M Ω @50V dc

Zero Temp. Drift

Typical: 0.03%FS/, Max: 0.1%FS/

FS Temp. Drift

Typical: 0.002%FS/, Max: 0.1%FS/

Response time

≤4 to 10 ms (standard); ≤1 ms (Customized)

Certificate approving

ATEX intrinsic safety or ExdIICT6, TUV RoHS and CE Certificate approving

Lighting Protection

(optional functions)

None (standard type); Air conducts withstand voltage 8000V Shell and Cable conduct withstand voltage 4000V. This function is customized.

EMC Standard

EN 61326-1:2013; EN 61326-2-3:2013

EN 61000-6-2:2005; EN61000-6-4:2007+A1

Application: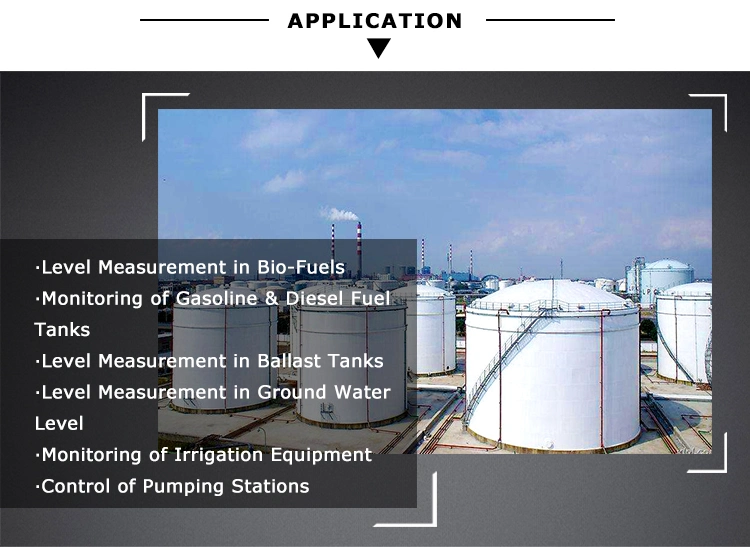 The HPT604 level sensor can be work in water tank, diesel fuel tanks, gasoline tanks, DEF applications and other tanks measuring a variety of different liquids, and are highly praised by consumers.
Level Measurement in Bio-Fuels
·Monitoring of Gasoline & Diesel Fuel Tanks
·Level Measurement in Ballast Tanks
·Level Measurement in Oil Tanks
·Monitoring of Contain Coolant for Diesel Engines
·Level Measurement in AdBlue Tanks
·Level Measurement in Kerosene
Our Services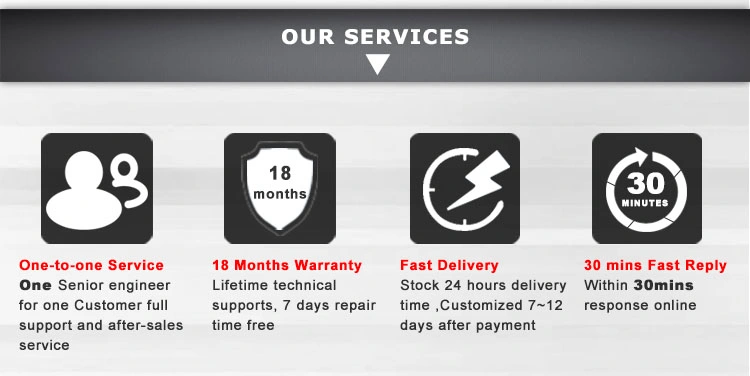 OEM / ODM services
To meet the user diversified requirement, Holykell have established a set of customer service and technical support system with OEM / ODM order as the center, and responded and Handle the customer's requirements in a timely manner to ensure accurate delivery time and product quality.

Order services
Fastest reply:Professional sales engineers 7/24 online services
Payment terms:T/T ,Western union, Paypal, Credit Card, L/C others
Fast delivery: within 24 hours release the cargo (normal spec.), Customized 7-12 days after payment .

MAINTENANCE & AFTER-SALES SERVICES
Customer Feedback: Sales engineers and technical engineers will be one-on-one service for you to exclude all obstacles when use our sensors.

Warranty period: 18 months
Product life-long maintenance: Holykell can provide you with the maintenance of the whole life of the sensor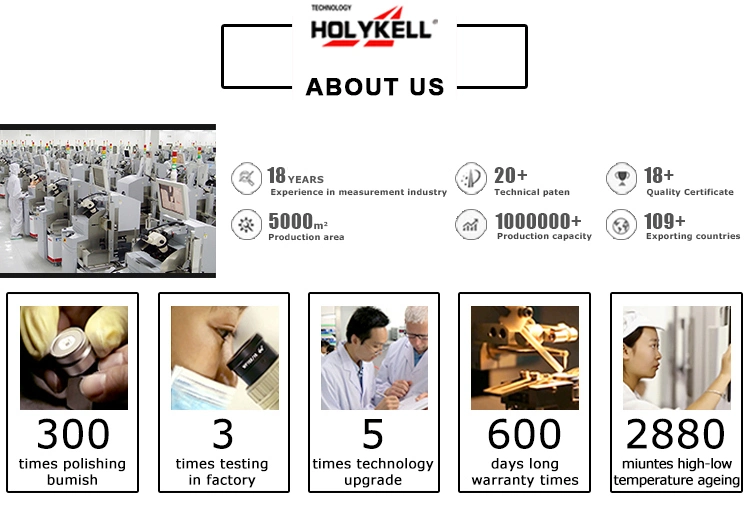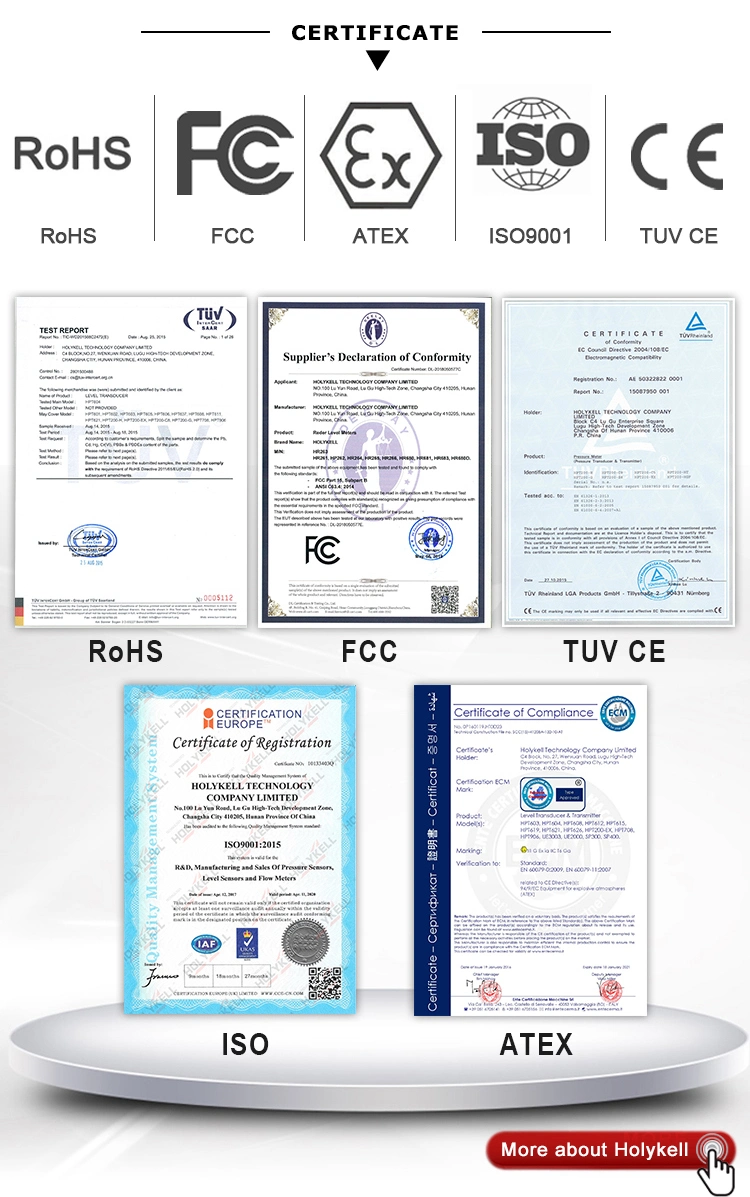 FAQ
1:How long will you give me the reply?
we will contact you in 30mins as soon as we can.
2:Could I get samples?
Price is for 1m range RS485 1 m PE cable with vents , If you want to order other specification ,you can contacts us directly ,we will reply you 24 hours online .
3:If I have paid,when will you help me to produce?
When we have received the money in our account,we will give you the receipt and arrange to produce immediately
4:How to pay for that ?
We could accept T/T,Paypal,WU ,Credit Assurance.
Contact person: Anna Loh

mobile: +86-184-73365257


Buying Guides
In order to recommend you the most suitable products and make an accurate quotation,please provide the following information and send it to
us when you are going to make an inquiry, thanks !
1. What is your medium? Diesel, petrol or others.
2. Working Temperature? -20~70ºC
3. Level range: 0-1m...500m optional
4. Output signal:4-20mA, 0-5V or others