Swimming Pool Hardness Increaser Calcium Chloride
Product Name:
Calcium Chloride
Other Name
:
Cal Plus, Water Hardness
Appearance:
Flake/Pellet/Granule/Powder/Tablet
Ingredient:
74%/77%/90%/94%
Features
:
.Dissolves instantly
.Prevents etching of pool surface
.Prevents corrosion of equipment and metal fittings
.For salt and chlorine pools
Specification:
Specification

Calcium Chloride Anhydrous

Calcium Chloride Dihydrate

Appearance

White Flake, pellet, granule, powder, tablet

CaCl2

94%min

90%min

77%min

74%min

Ca(OH)2

0.25%max

0.2%max

NaCl

5%max

Water Insoluble

0.25%max

0.15%max

Fe

0.006%max

pH

7.5-11

MgCl2

0.5%max

CaSO4

0.05%max
Packing and Shipping
Packing:
0.5kg(or 1lb),1kg(or 2lb),2kg(or 5lb),3kg,4kg(or 10lb),5kg, 8kg and 10kg of Pillow Bags, Stand up Bags,Gusseted Bags and etc.
0.5kg (or 1lb),1kg (or 2lb),2kg (or 5lb),3kg,4kg (or 10lb),5kg, 8kg and 10kg of Pails, Jars, Jugs,Pots,Tubes,Drums and etc.
25kg or 50lb bags
50lb or 100lb drums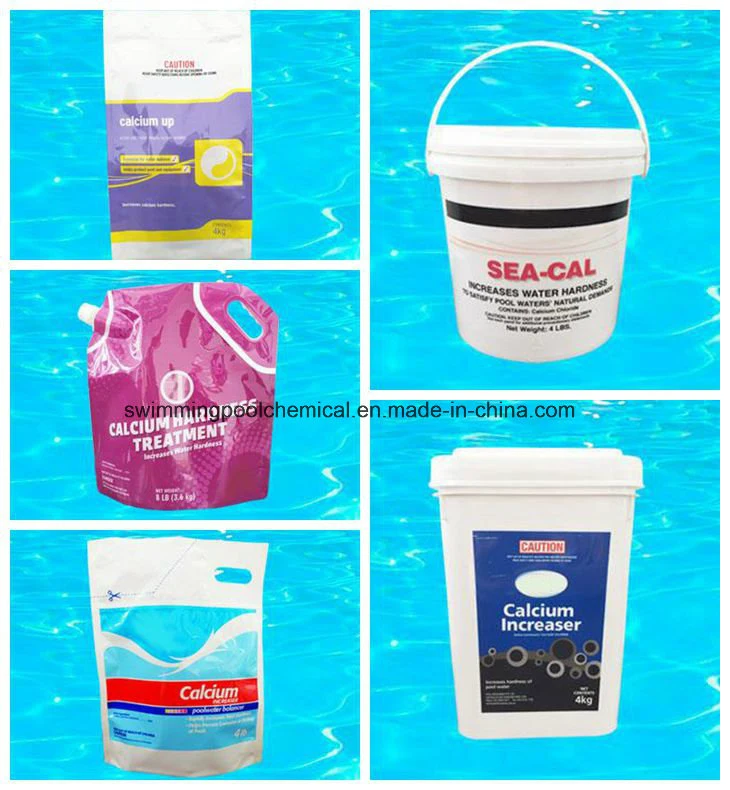 Shipping:
The small packages will be putted into cartons, then the cartons will be loaded directly or palletized as customers' request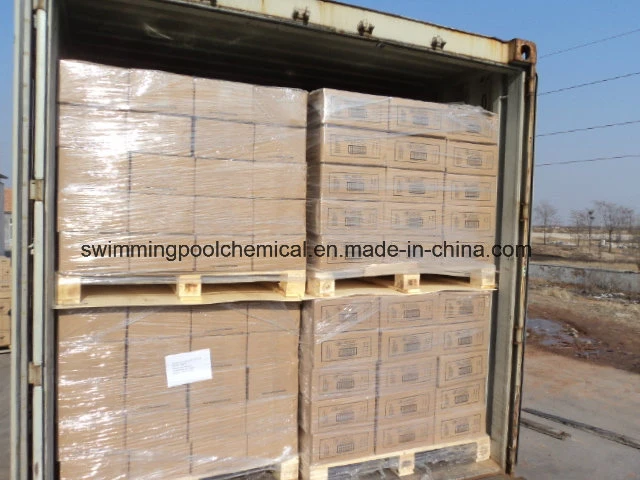 Advantage
1. We have been producing and repackaging swimming pool and spa chemicals since 2000. We have the professional facilities, workers and more than 10 years experience.
2. We can pack as requested chemicals, packages and formulas. And we supply our special formula products.
3. We can help to design and edit customers' artwork and labels.
4. We can mix loading different products into one container.
5. We provide the prompt shipment, documents and professional service.
6. We have one team to supervise the chemicals, packages, repacking, loading, every step, take pictures and make records.
Company Information
Since 2000, with more than 45000 square meters factory, Hotchem-Qingdao Hot Chemicals Co., Ltd. has grown into the leading producer and repackager of swimming pool and spa chemicals in China.
Hotchem has been striving to provide superior quality products and services. Hotchem is constantly upgrading its technology to ensure the innovation of developing and manufacturing, and continually expanding and improving its products line.
With years of development, Hotchem has mastered extensive knowledge of the swimming pool and spa industry, which helps us to design and produce all kinds of products and packages to satisfy its customers
Welcome to our factory