Water Hardness Calcium Chloride 74%/77%/94% for Swimming Pool Water Treatment
Calcium Enhancer
Product Description:
Synonym: Cal Plus,Water hardness
Chemical: Calcium Chloride
Appearance: Flake/Pellet
Ingredient:CaCl2:74% / 77% / 90% / 94%
Features:Hardness Increaser is used to raise the calcium hardness level in the pool to the ideal range. Prevents water from becoming corrosive and damaging pool's plumbing and heater. Stops staining and etching of pool surfaces caused by low hardness levels.
Size:
0.5kg(or 1lb),1kg(or 2lb),2kg(or 5lb),3kg,4kg(or 10lb),8kg, 10kg,25kg
Package:
Pillow Bags,Doy Packs,Gusseted Bags, Pails, Jars, Jugs,Pots,Tubes,Drums and etc.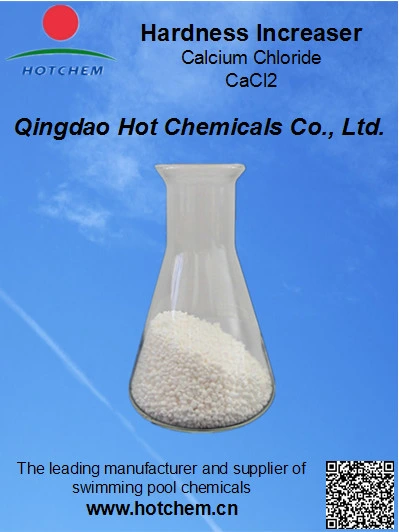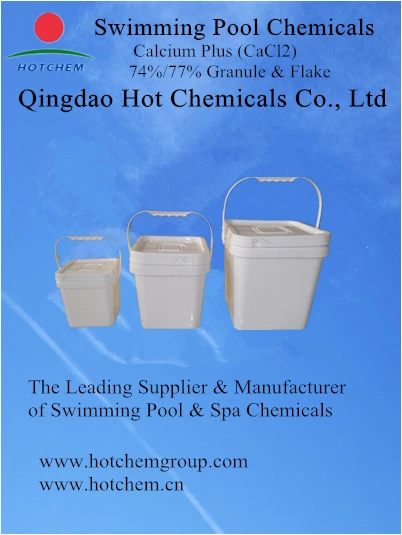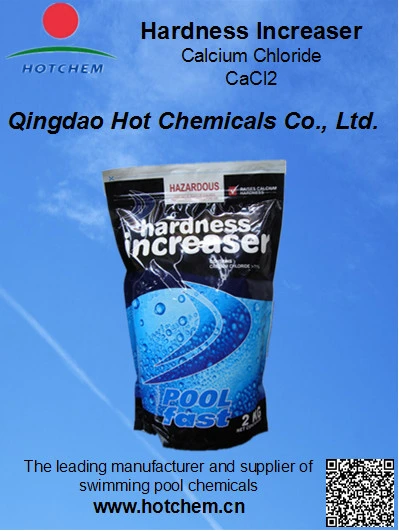 Our service:
1)We have been producing and repackaging swimming pool and spa chemicals since 2000.
2)We have the professional repackaging facilities, workers and more than 10 years experience.
3)We can pack as requested chemicals, packages and formulas. And we supply our special formula products.
4)We can help to design and edit customers' artwork and labels.
5)We can mix loading different products into one container.
6)We provide the prompt shipment, documents and professional service.
7)We have one team to supervise the chemicals, packages, repacking, loading, every step, take pictures and make records.
The products we sell:
1)Balancer: sodium bicarbonate, sodium carbonate(soda ash), sodium bisulphate, calcium chloride, stabilizer(cyanuric acid) and hydrochloric acid
2)disinfectant: SDIC,TCCA, multi-action tablet, calcium hypochlorite, BCDMH
3)Algaecide: polyquaternary Ammonium, WSCP, benzalkonium chloride(BKC), Copper and Multifunction Algaecide.
4)Flocculant: Aluminium sulphate, PAM(Polyacrylamide) and Poly Aluminium chloride(PAC)
Company Infomation:
Qingdao Hot Chemicals Co., Ltd. Specializes in the repackaging of the swimming pool and spa chemicals. Since 2000, Hotchem has been expanding and modernizing its factory as well as diversifying its products.
Hotchem's main products are Water Balancer, Algaecide, Flocculant and Disinfectant. Hotchem will continue to develop new products and new packages.
Hotchem, as the leading repackager of swimming pool and spa chemicals, has professional experience to repackage swimming pool and spa chemicals in small packages. Hotchem's available packages are mainly the Standing bags, Gusseted bags, Pillow bags, Pails, Jars, Bottles, Tubes, Drums and etc.
Hotchem will continue to supply to its customers with high quality products and superior service, and will try to do the better in the future.