Water Hardness Calcium Chloride for Swimming Pool Use
Product Information
Synonym: Cal Plus,Water hardness
Chemical: Calcium Chloride
Appearance: Flake/Pellet
Ingredient:CaCl2:74% / 77% / 90% / 94%
Features:Hardness Increaser is used to raise the calcium hardness level in the pool to the ideal range. Prevents water from becoming corrosive and damaging pool's plumbing and heater. Stops staining and etching of pool surfaces caused by low hardness levels.
Size:
0.5kg(or 1lb),1kg(or 2lb),2kg(or 5lb),3kg,4kg(or 10lb),8kg and 10kg
Package
of Pillow Bags,Doy Packs,Gusseted Bags ,Pails, Jars, Jugs,Pots,Tubes,Drums,25kg or 50lb bags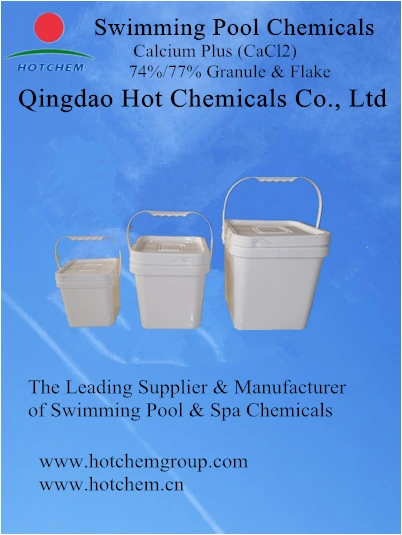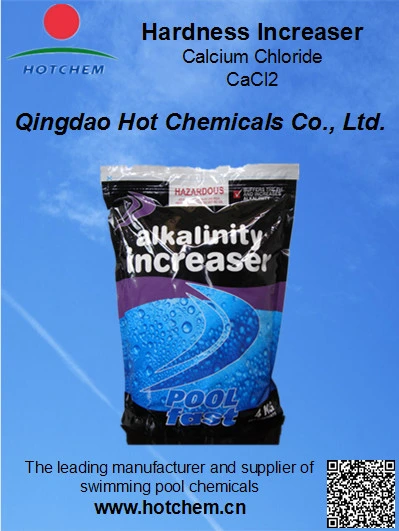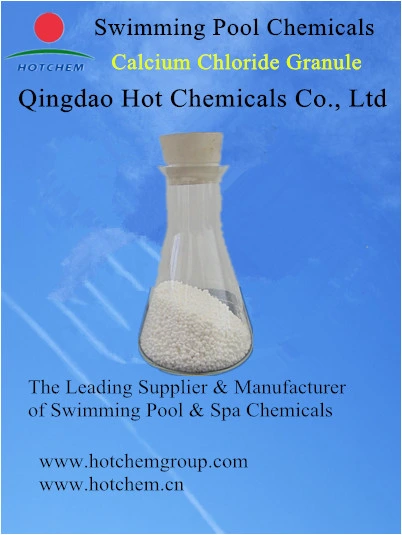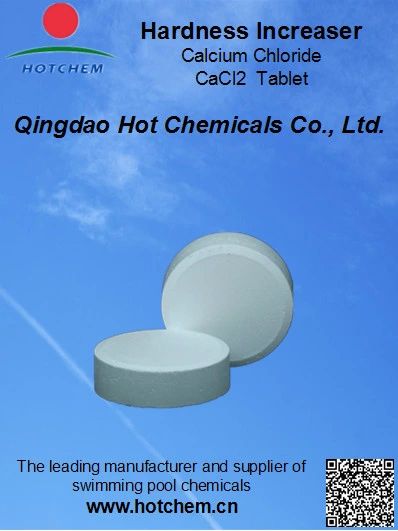 Our Advantages
Fast shipment by reputed shipping line, packing with pallet as buyer's special request,
best service after shipment with e mail, cargoes together with container sales service
available, we can make the special shipping mark as customer request.
Currently our products are being exported to clients in all over the world.If you are
interested in any our products, please feel free to contact us. We look forward to doing
business with your esteemed company.
Main Products we supply
(1) swimming pool chemicals
A: Balancer
(Alkalinity increaser/Soda ash/Ph minus/Cyanuric acid/Calcium increaser/Hydrochloric acid)
B:Algaecide
(Polyquaternary ammonium PQ/WSCP/Benzalkonium chloride BKC/Copper/Multifunctional algaecide)
C:Disinfectant
(SDIC/TCCA/Multi-action tablet/Calcium hypochlorite/BCDMH)
D:Flocculant
(Pool Floc/PAAM/PAC)
(2)Moisture Absorber
Calcium Chloride(74%/77% /94%/95%flake/granule/powder/pellet )
Company Profile
Hotchem-Qingdao Hot Chemicals Co., Ltd. with more than 45000 square meters factory,has grown into the leading producer, repackager and supplier of swimming pool and spa chemicals, moisture absorber, ice melter, oil drilling chemicals and packages in China,Since 2000.
Hotchem has been striving to provide superior quality products and services. Hotchem is constantly upgrading its technology to ensure the innovation of developing and manufacturing, and continually expanding and improving its products line.
The leading producer and repackager of Swimming Pool and Spa chemicals
With years of development, Hotchem has mastered extensive knowledge of the swimming pool and spa industry, which helps us to design and produce all kinds of products and packages to satisfy its customers.
The leading producer and repackager of Moisture Absorber
Through the years, Hotchem has developed a number of products and packages to adapt to different market demands. Products with fragrance have been developed to eliminate odors and leave a light scent.
The leading supplier and repackager of Ice Melter
With many years' experience, Hotchem can supply and repackage the safe, environmental and fastest dissolving products.
The leading supplier of Oil Drilling chemicals
Hotchem can provide more than 20 varieties of products with high quality.
The leading supplier and manufacture of packages
Hotchem can provide many kinds of packages, such as plastic bags, pails, boxes and so on. And it will produce injection and blow molded containers in the near future.
We will definitely provide our customers with best quality and prompt service.
Welcome your inquiry!